Devonshires Housing Conferences 2023
In this fast-moving operating environment, we are keen to ensure that our housing clients are able to keep updated on key regulatory, legal and commercial changes. 
We will be hosting tailored conferences in Birmingham, Leeds, and London, to enable our clients to keep abreast of updates, but also get the opportunity to come together to discuss their issues and best practice.
We are delighted to announce the first of our tailored housing conferences will be held at the Library of Birmingham on 27th April 2023.
Specifically designed and free of charge for our housing clients, we hope you will be able to join us for some or all of the day. We have structured the event with specific focuses in the morning and afternoon, to allow you to make the best use of your time, but if you're unable to join us in the day we hope you will still be able to attend our late afternoon networking mixer with WISH Midlands and Housing Diversity Network.
Programmes for our Leeds and London Conferences will be published in due course.
We have summarised the Birmingham Conference programme below followed by the full programme.
Event Details



Devonshires Housing Conference – Library of Birmingham, 27th April 2023
---
Devonshires Housing Conference – Leeds – June 2023
---
Devonshires Housing Conference – London – October 2023
Devonshires Housing Conference: Birmingham
Thursday 27th April 2023
Library of Birmingham, Centenary Sq, Broad St, Birmingham B1 2EA
Morning Plenary – Are you Compliant?
With the legal and regulatory agenda in a state of flux, it can sometimes feel overwhelming keeping ahead of key changes.
In the morning's sessions, we will be focusing on compliance requirements and their interplay with key business and operational risks. In particular, we will be concentrating on:
IT contracts and cyber security – with a spate of recent high-profile cyber attacks in the sector (and more widely), IT-related risks rank highly in many providers' risk registers. In this session, experts from our Information Management, Commercial and Litigation teams will be considering the key risks to your business and how these can be managed, as well as how to respond in the event of an attack to meet your legal and regulatory requirements;
Changing consumer regulation requirements – including an update on where we are with the Tenant Satisfaction Measures and the implementation of changes to the Consumer Standards and key issues in relation to disrepair and damp and mould;
Health and safety – this will include consideration of the interplay between new Tenant Satisfaction Measures reporting requirements and health and safety obligations, as well as an update on the implementation of recent changes under the Building Safety Act.
Wrapping up the morning will be a Q&A panel discussion, touching on the key areas coming out of the morning's sessions and best practice in relation to compliance assurance.
Afternoon Plenary – Planning for the future
Although the 7% rent caps were widely welcomed by housing providers, the impact of the caps coupled with inflationary pressures and increased investment requirements have required many providers to look again at their business plans and consider how best they can meet their strategic objectives.
Our afternoon sessions will be forward looking and will consider how different delivery and funding models may be helpful when facing current financial and operational pressures. We will be looking at:
Collaboration and partnership working models, including information partnerships, joint ventures and shared service models; and
Future funding models.
Again, to wrap up the afternoon session, we will host a Q&A panel discussion touching on the key areas discussed.
Networking
We have teamed up with WISH Midlands and Housing Diversity Network for networking mixer from 17.00 – 18.30 and we would be delighted if you could join us to round off the day and catch up with your peers and the Devonshires team. If you are unable to make it for the conference itself, you are still welcome to join us!
Registration tea and coffee
Welcome address – setting the scene – Gemma Bell, Partner, Devonshires and guest speaker to be announced
Morning Plenary – Are you Compliant?
                     Networking Lunch and afternoon registration
Afternoon Plenary – Planning for the future
Networking mixer with WISH Midlands, sponsored by Housing Diversity Network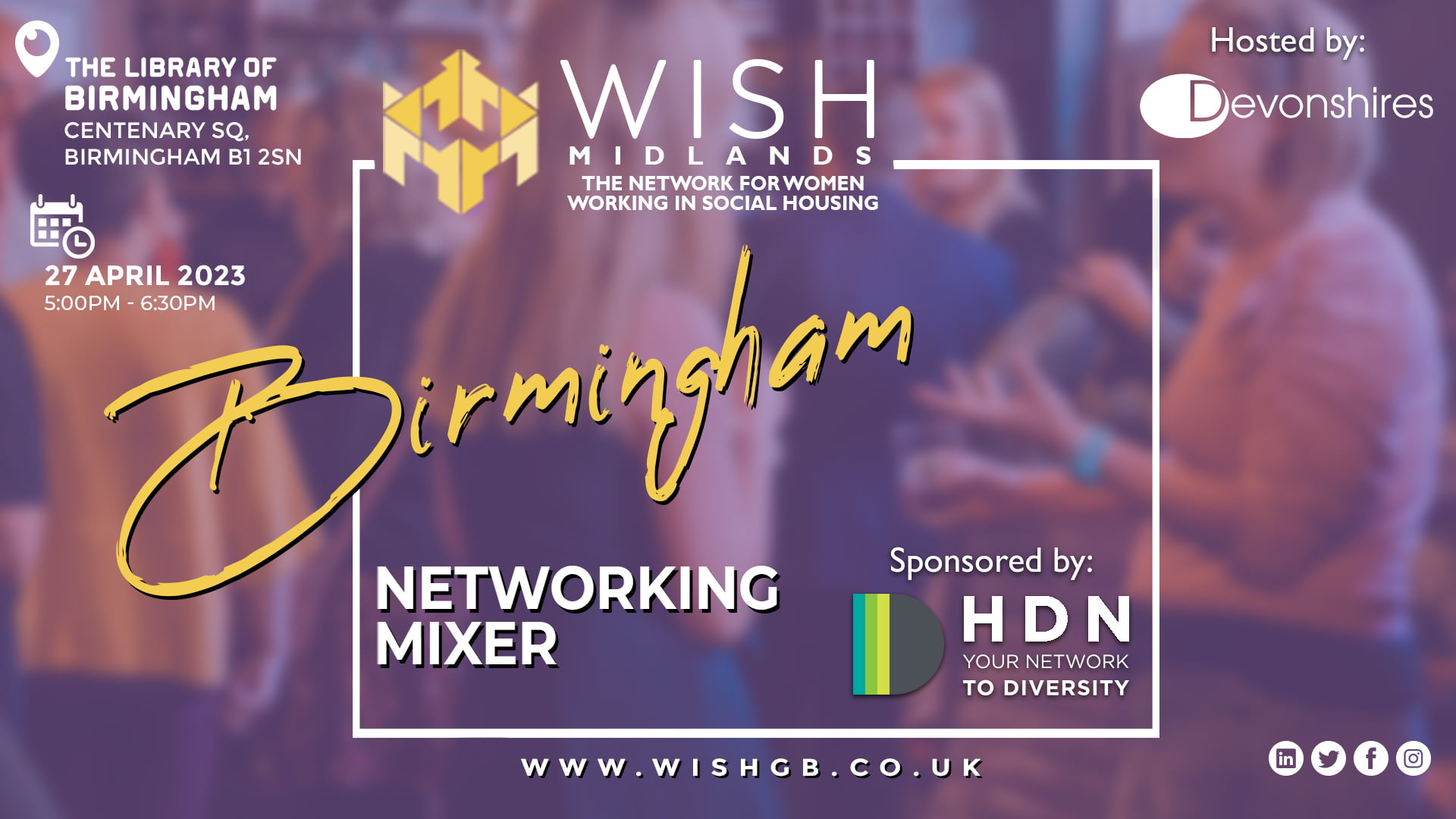 Programme to be announced.
Programme to be announced.
Feedback from previous Devonshires Conferences
"I thoroughly enjoyed the day and all sessions were extremely interesting."

"Really enjoyable day and I look forward to the next one."

"A thoroughly enjoyable, relevant and educational day. Thank you!"
Catch-up with our most recent Devonshires Webinars. Our page is regularly refreshed, providing you with the most relevant and up to date information.